Defend patients, staff and visitors from airborne bacteria, viruses and mold throughout your facility with the patented UV24 system.
FAST, CONTINUOUS UV-C AIR PURIFICATION:
Overhead, out of sight, the patented UV24 system provides continuous ultraviolet protection against airborne pathogens, all safely hidden behind standard-sized fluorescent or LED ceiling lights.
The fast, continuous UV24 air purification system works around the clock to provide fresh, clean air to breathe.
UV24 combines an ultraviolet germicidal irradiation (UVGI) chamber and air circulating fans with an overhead ceiling light to allow for 24/7 operation in occupied spaces.
UV24 can treat a volume of air equivalent to a 10' x 10' x 8' room, four times per hour.
Studies demonstrate that UV-C can be a meaningful defense against healthcare acquired infections (HAI's) such as MRSA, C.diff, Staph, Ebola, Tuberculosis, Staphylococcus aureus, Pseudomonas aeruginosa and Clostridium difficile. Ideal for use in hospitals, nursing homes, surgery centers, and daycare centers, anywhere airborne pathogens can impact patient and staff health.*
Improves quality of air
Reduces bacteria
Reduces odor
Reduces settling
Minimal maintenance
Space-saving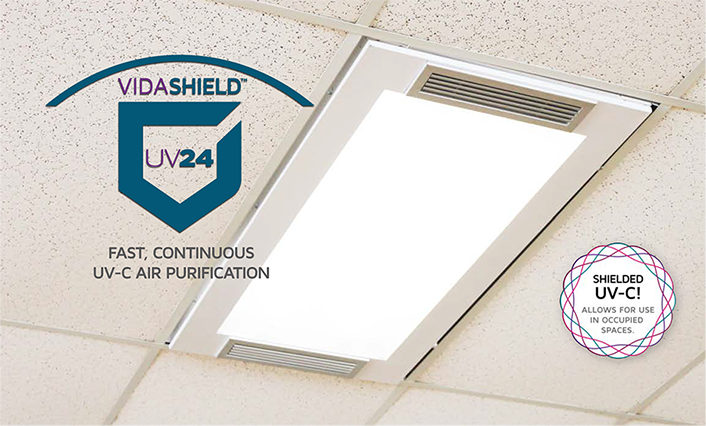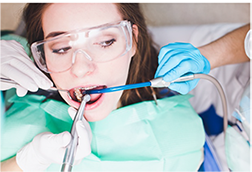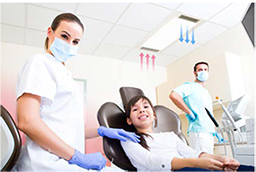 REDUCE THE SPREAD OF AIRBORNE BACTERIA AND VIRUSES
Because of exposure to contaminants, disease and infections, dentistry is ranked 2nd among the most unhealthy jobs in the U.S.1
Aerosols containing blood, nose and throat secretions, bacteria, viruses and saliva are created during standard dental procedures and surgeries, putting both patients and staff at risk of inhaling infectious particles.2
Studies show:
• Aerosols spread over 30 ft.
• Airborne bacteria increased up to 20
times during treatments
• Levels exceeded proposed safe value3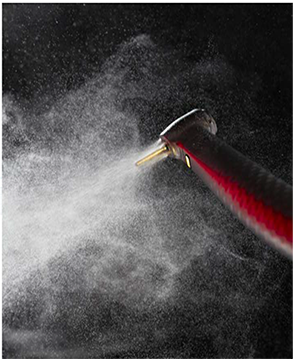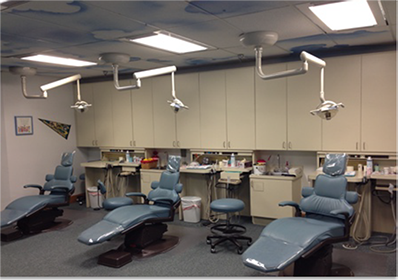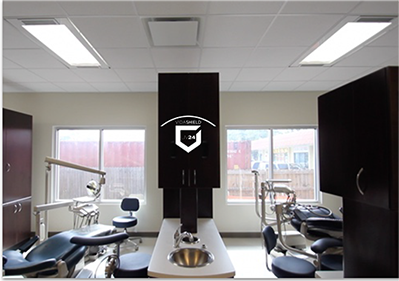 HOW UV24 WORKS:
Air containing airborne microorganisms is drawn into system through a discreet vent opening on the face of the fixture.
A replaceable MERV6 filter sits just inside the vent opening and captures large particulates such as dust.
The fans create differential pressure to continuously draw 50 CFM of air into fixture.
Safety baffles guide microorganisms through the UV-C chamber and prevent UV-C leakage into the room.
The ultraviolet lamp operates at 253.7 nanometers, reducing bioaerosols from room air 24/7.
Treated air is pushed through second set of baffles.
A 30 degree angle on blades of the exit vent disperses treated air evenly throughout the room.
CHOOSE YOUR CONFIGURATION:
| ITEM # | DESCRIPTION |
| --- | --- |
| UV24FL | UV24 with Fluorescent Light |
| UV24Kit | UV24 Kit with 1 UV-C Bulb and 4 Filters |
| UV24LED | UV24 with LED Light |
| UV24MT | UV24 Mounting for Hard Surfaces |
| UV24NL | UV24 with NO LIGHT |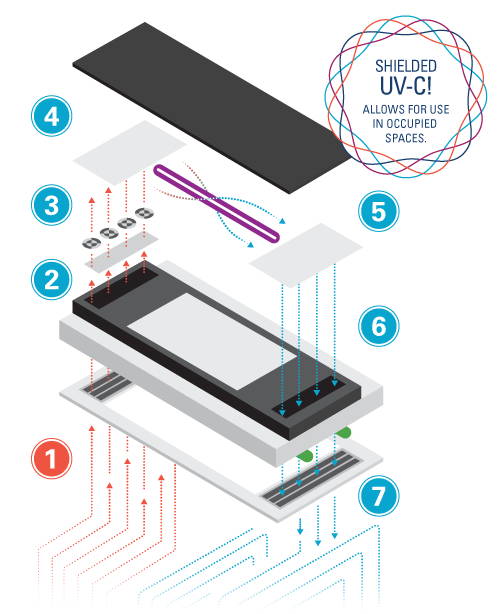 Write a Review
Write a Review
UV24
UV24 OVERHEAD AIR PURIFICATION SYSTEM – 2' x 4' Troffer w/ LED FLAT PANEL(UV2LED)